Bougeons ENSEMBLE
Une collaboration entre KUNDA BELGIUM et DAKAWOMINA ASBL pour un challenge sportif « Moving Lives » afin de récolter des fonds pour une aide alimentaire d'urgence au profit des déplacés du/au centre du Mali. Vidéo réalisée par YviDji de KUNDA;

Convaincus! alors allons y!
Convinced? Then Let's go!
Et rejoignez nous pour parcourir virtuellement les 7000Km qui séparent LOUVAIN-LA-NEUVE en Belgique de DAKAWOMINA (village de pêcheurs sur le fleuve Niger) au Centre du Mali.
Bougez avec KUNDA ou faites votre sport favori et convertissez vos efforts en kilomètres.
And join us to virtually cover the 7000Km that separate LOUVAIN-LA-NEUVE in Belgium from DAKAWOMINA (village of fishermen on the Niger River) in Center Mali.
Move with KUNDA or practice your favorite sport and convert your efforts into kilometers.
Arrivé à « Objectif personnel« , décidez de votre objectif personnel en terme de kilomètres, et le montant que vous espérer récolter auprès de vos amis et connaissances,  en utilisant les signes « – » ou « + »
When on the page « Personal Goal » , decide of your personnal objective in terms of kilometers,  and the amount that you expect to raise from your supporters , using the sign « – » or « + ».
Si vous le souhaitez, vous pouvez synchroniser votre App STRAVA (à télécharger sur votre téléphone) pour enregistrer automatiquement vos performances lorsque vous marchez, courrez ou faites du vélo.  Suivez la procédure ci-dessous pour lier votre compte STRAVA au challenge « MOVING FOR REFUGEES »
If you wish, you can synchronise the App STRAVA (to be downloaded on your Phone) to register automatically your performances when walking, running or cycling.  Follow the procedure below to link your STRAVA account to the challenge « MOVING FOR REFUGEES »
Enregistrez vos performances / Register your performances
Si vous ne souhaitez pas utiliser STRAVA, (ou pour les activités autres que la marche, la course ou le vélo) cliquer sur « sauter » et suivez la procédure ci-dessous pour rentrer vos activités manuellement.
If you do not use STRAVA (or to enter activities other than walking, running or cycling) click on « Skip » and follow the procedure as described hereunder to enter your performances manually
 L'écran suivant vous permet d'entrer un message personnel pour vos amis.
Ensuite, confirmez les données de confidentialité.
Enfin l'écran suivant vous propose de lancer votre challenge en vous sponsorisant vous-même ou, si vous ne le souhaitez pas, cliquer sur le bouton « Non je ne souhaite pas contribuer »
The next screen enables you to write a small personnal message.
Then, give your consent on the PRIVACY screen and
Finally you can decide to either launch your challenge by providing yourself a financial support or click on the « No, I do not want to contribute » button.
COMMENT ENREGISTRER VOS PERFORMANCES MANUELLEMENT
Dans votre profil, allez à vos défis et  cliquer sur « Gérer ». 
(NB : vous pouvez ici modifier vos objectifs personnels si besoin en utilisant les signe « – ou + »). 
Ensuite, pour enregistrer vos performances manuellement allez sur « Activité »
HOW TO REGISTER YOUR PERFORMANCES MANUALLY
Go to your challenge in your profile and then click on « Manage« 
(NB: you can modify here your personal goal using  the sign « – » or « + » if needed).
Then, to register your performances manually go on « Activity«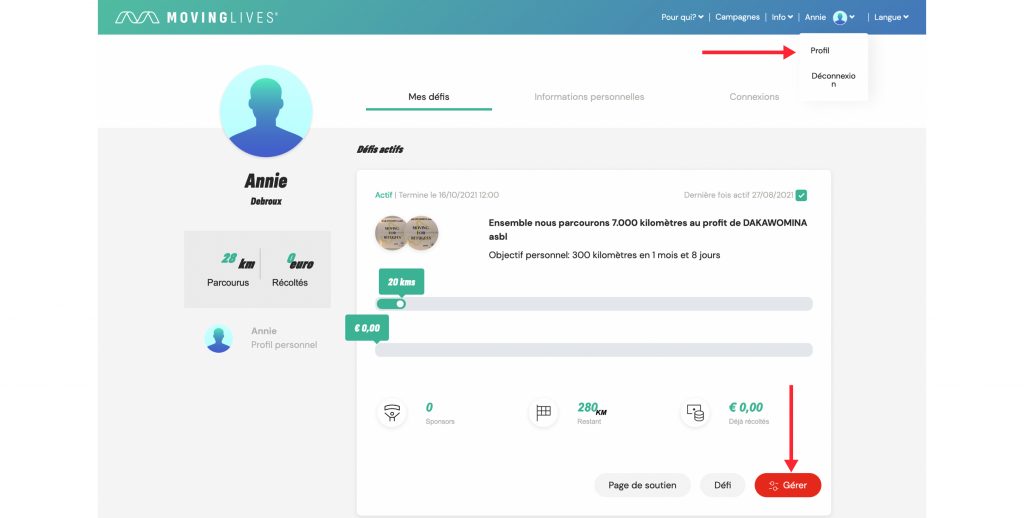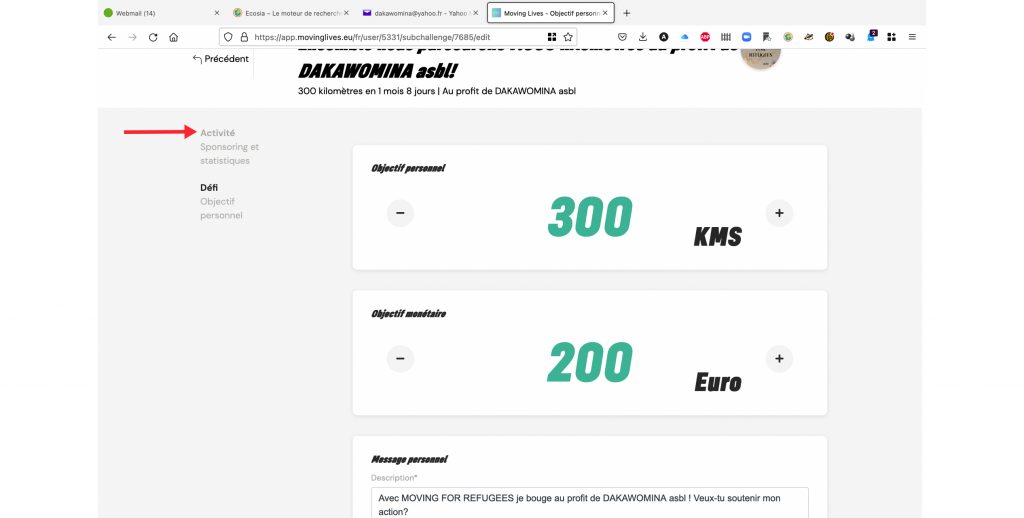 Sur l'écran suivant cliquer sur la touche « + » en bas à droite pour aller à la page d'enregistrement d'activité.  Indiquer la date et dans la barre défilante trouvez l'activité que vous avez pratiquée ou choisissez « autre » si elle n'y apparaît pas.
On the next screen, click on the « + » sign (bottom right) to go to the activity registration screen.  Indicate the date and, in the scrolling bar find the activity that you performed or choose « other » if your acctivity does not appear there.
Indiquez ensuite le nombre de kilomètres équivalents à votre activité  à l'aide du tableau de conversion ci-dessous. 
Indicate then the number of kilometers equivalent to your activity performance, using the conversion table below.
Partager et Soutenir / Share and Support
Il reste maintenant une dernière étape cruciale pour que ce challenge soit une réussite: PARTAGER  le lien
https://app.movinglives.eu/fr/campaign/moving-for-refugees
avec vos proches et sensibilisez les pour qu'ils soutiennent vos efforts.
Vous pouvez vous aussi, si vous le souhaitez SOUTENIR un participant au challenge.
Dans le bas de la page cliquez sur le participant que vous souhaitez soutenir,  cliquer sur « Soutenir » et indiquez le montant que vous souhaitez allouer pour parrainer ses efforts. (nb: il n'y a pas de lien direct entre le montant parrainé et le nombre de kilomètres parcourus)
A l'aide du bouton « Suivant » suivez la procédure pour finaliser le paiement.
Most important to insure the success of this challenge: SHARE the link
https://app.movinglives.eu/fr/campaign/moving-for-refugees
with your relatives to sensitize them and obtain their support to your efforts.
You can also SUPPORT a participant if you wish.
At the bottom of the page, search for the participant that you want to support and select it and then click on the button « Support Name » and indicate the amount that you want to allocate to support your friend's efforts.(nb: there is no direct link between the number that you want to allocate and the number of kilimeters run)
With the « Next » button, follow the procedure to confirm the payment.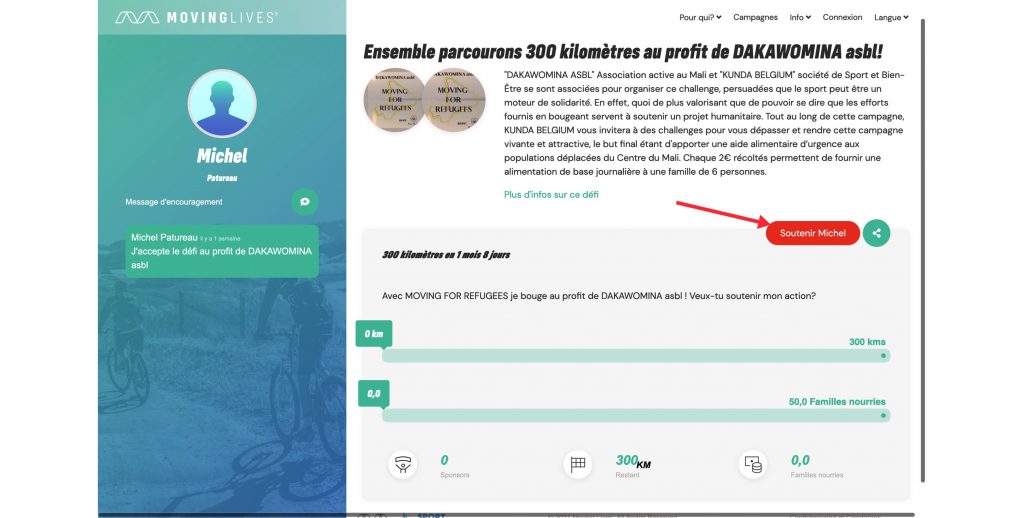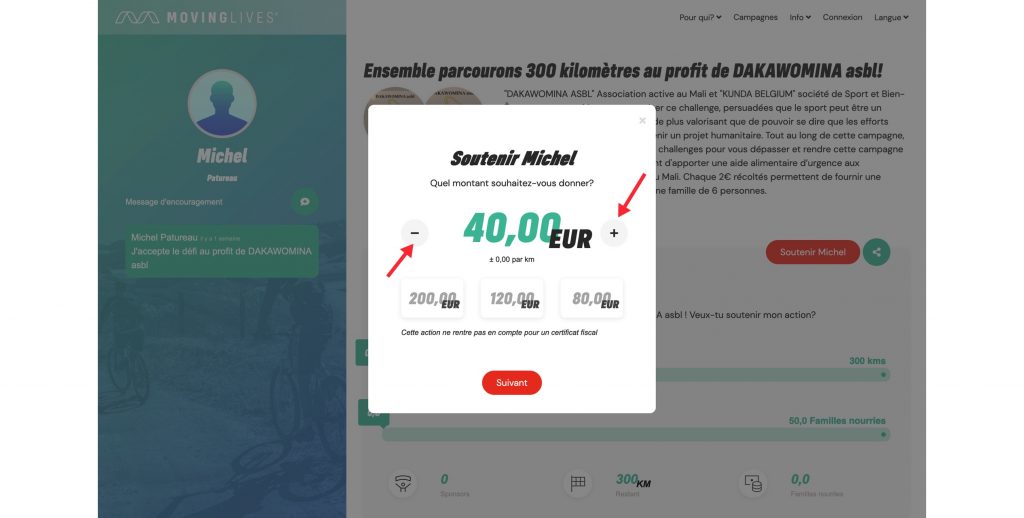 Enfin, très important, n'oubliez pas de REMERCIER vos sponsor(s).
LAST BUT NOT LEAST!,  don't forget to THANK your sponsor(s).